Morocco's most glorious beach haunts
While Morocco might not be the first Mediterranean destination that comes to mind when you think of soft-focus, afternoons wading in the ocean, its beaches are truly unmissable. Think: bright and breezy coastline bracketed by white-washed towns - and ample escapes for the surf crowd. We've rounded up the best beach-chic towns for when you need to slip away from the medina and soak up some rays
---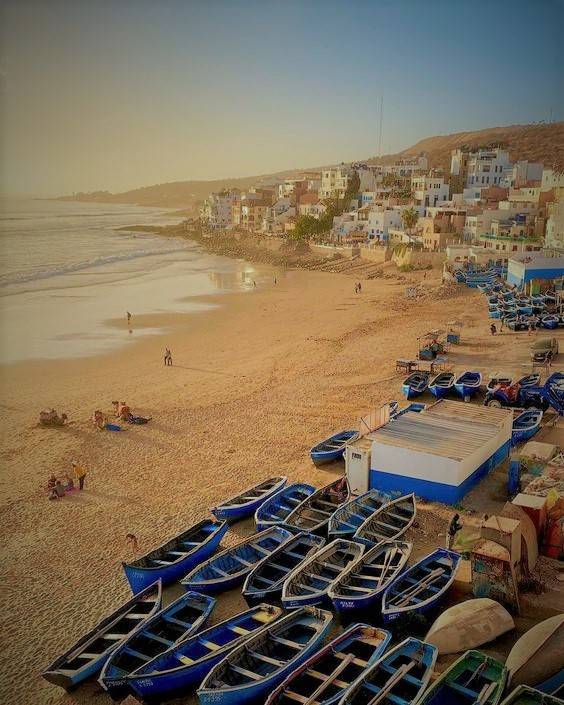 TAGHAZOUT BEACH, PHOTO PINTEREST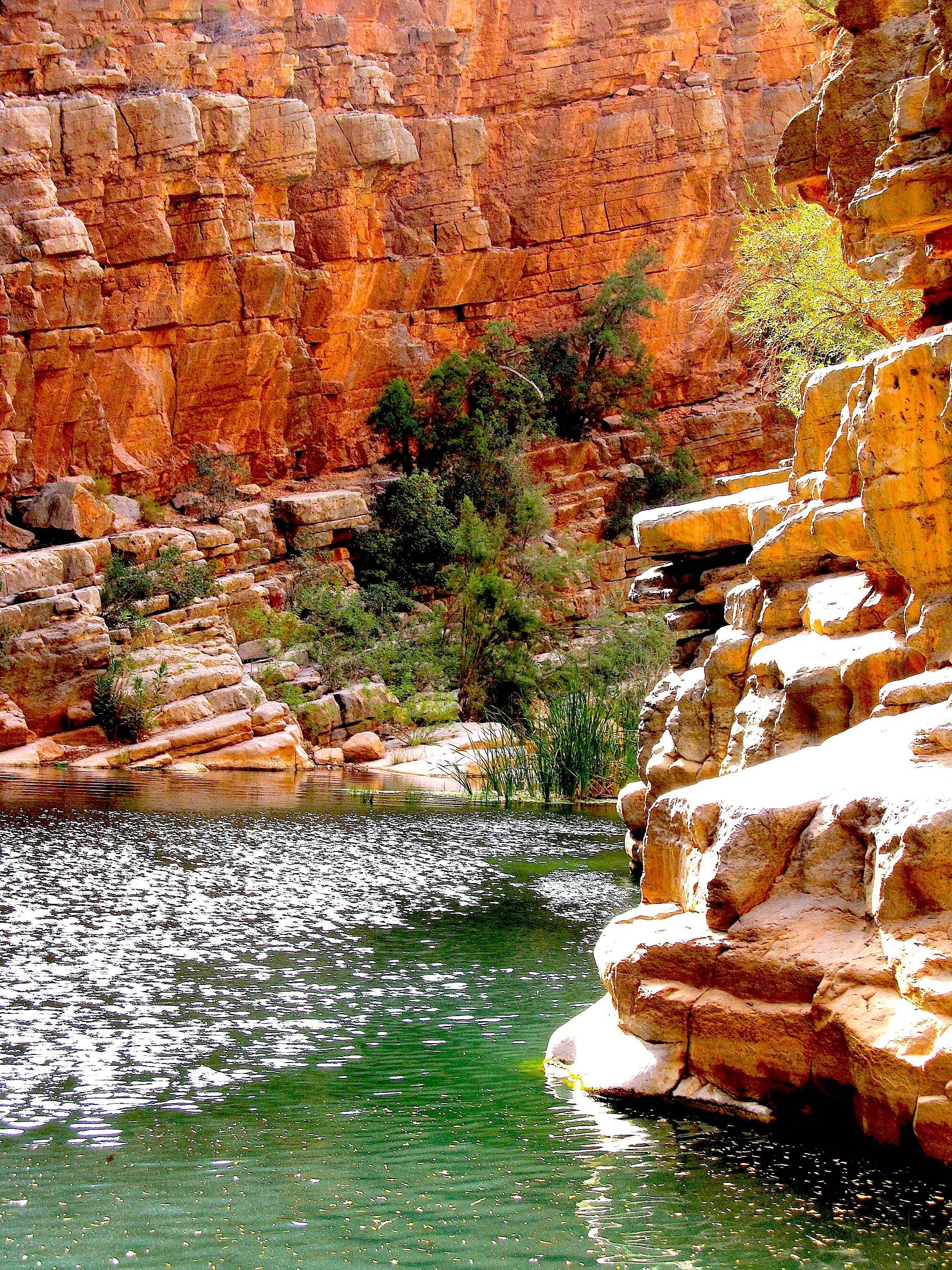 PARADISE FALLS, TAGHAZOUT, PHOTO PINTEREST
Just 2.5 hours south of Marrakech, this coastal bohemian paradise blooms within a sun-washed fortress. Charming blue doors punctuate the town's sleek white walls, fishing boats converse in the port - even the streets have their own rhythm here. Originally Morocco's largest port, Essaouira still has plenty of spice to attract visitors, near and far. Watch the fisherman pulling in their nets, and sample the day's catch from a lush rooftop cafe as the sun sets. From kite-surfing to hammam-lounging, there's plenty of ways to unwind in this enchanting enclave.
Named the best spot for catching waves, by CN Traveller, Taghazout has also been heralded as the "new Santorini " (check it before the crowds pour in). South of Agadir (another must-see strip of beach), you'll find a plethora of surf shops and oceanfront restaurants perfect for sipping mint tea. The barrel waves are best by Anchor Point, while Killer Point has a reputable point break you won't want to miss. If surfing's not your thing, get your daily Om in with some sun-salutations atop a rooftop yoga retreat. If you're planning to spend a few days cruising the coast, be sure to visit Paradise Valley, a quick 30 minute drive away. The rocky cliffside gives way to a collection of hidden pools, ideal for cooling off after a hot hike.
Also known as the "Mediterranean pearl", Al Hoceima is famous for its heavenly beaches and azure water backed by the Rif mountains. While the beaches inside city limits are usually crowded, the ones just outside are more relaxed (and pretty as a postcard). Try Tala Youssef Beach, surrounded by mountains, as well as Bades Beach, a serene stretch of beach in the national park.
"I spent my childhood and teenage summers (the best ones) in the bewitching city of Tangier, ideally situated between the Mediterranean Sea and the Atlantic Ocean. Tangier tantalizes with its nonchalant blue Mediterranean coast on the east and endless Atlantic beaches on the west."
- Hind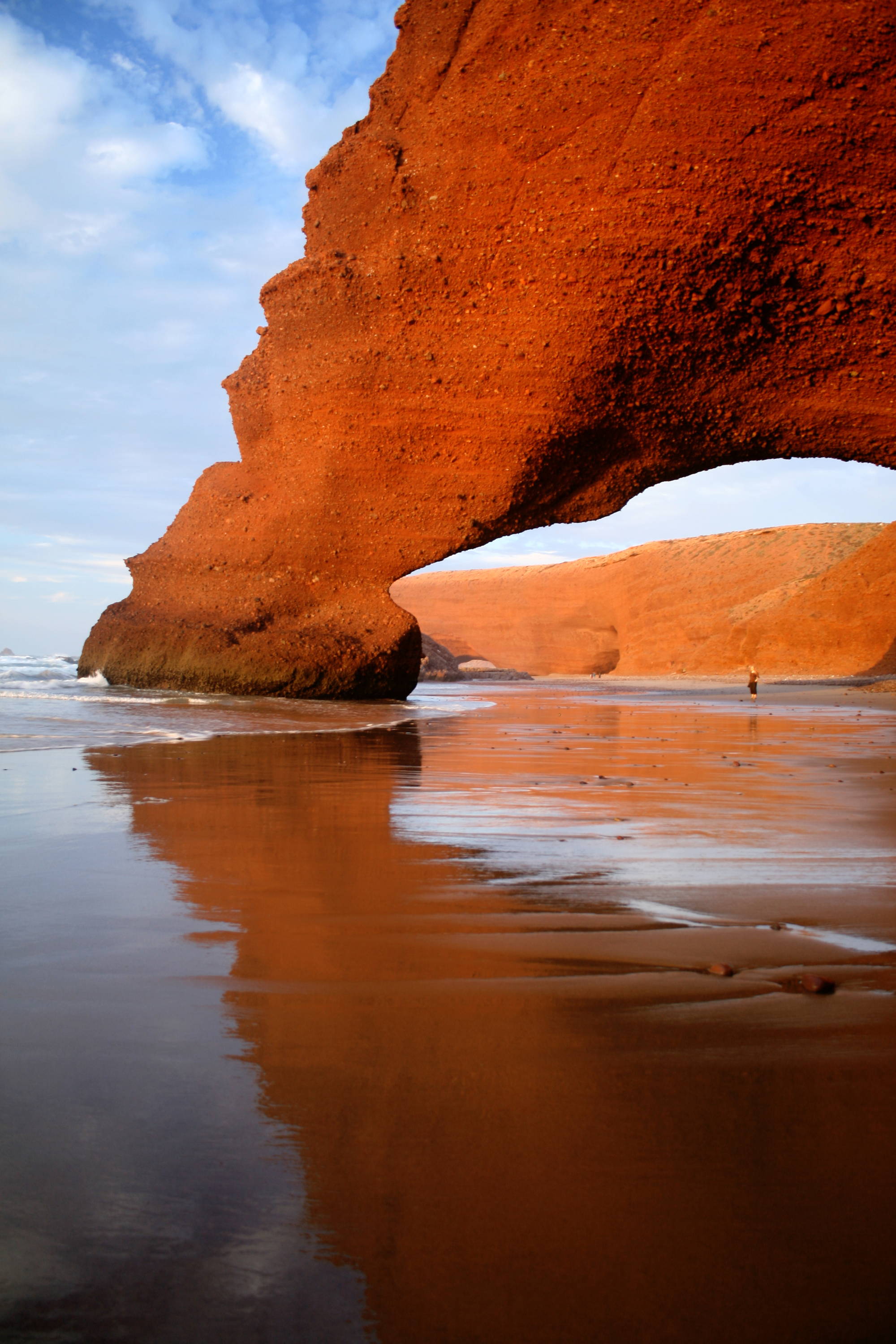 LEGZIRA BEACH, WIKIMEDIA COMMONS
This cosmopolitan port has long been beloved by writers and artists, from Paul Bowles to Tennessee Williams, who arrived on its unspoiled shores in search of a great adventure. Recently, the seaside destination has redesigned its favorite hot-weather haunts for a new set of sun-worshippers. Stepped alleyways painted with flowers, endless antiques, laidback teashops, adobe buildings, iconic cafes and retro hotels give Tangier a flavor all its own. The kasbah sits atop a hillside, offering impressive views of the sea. Morocco was the first country to recognize America's independence, and in 1821 the US set up the American Legation in Tangiers, which houses an incredible offering from Eugene Delacroix, Yves Saint Laurent and Paul Bowles.
20 miles south of Tangier lies Asilah, a magical artists' haven filled with painted murals and breath-taking panoramas. Indulge your creative side with a trek through the white-washed village, where murals are updated to please art aficionados all year round. Built in the 15th century when Asilah was under Portuguese rule, the stone ramparts stretch out into the ocean and have been renovated and preserved, framing the older section of town with charming history.
Stroll the stunning beach at high tide as you sip smoothies in Mirleft, a sleepy coastal village free from the crowds. However, the surf scene is heating up here, on beaches like Marabout, Coquillage and Plage Sauvage. With wide, sandy beaches, Mirleft isn't much for nightlife, but you won't miss it as you watch the sky turn from blue to pink to violet, reflected in dreamy pools of water. A short car ride from Mirleft is Legzira, known for its mammoth, naturally formed stone arches. The rocky expanse of beach was once home to two arches, until one collapsed because of erosion in 2006, but the other still steps regally out into the crashing waves.
Couchsurfing from home and looking for more travel inspo? Follow us on Instagram @whind for our exclusive pick of global haunts.