We're making the most of our time inside (again), and bookmarking all the places we want to visit once global restriction ease up. With its diverse landscapes and magical scenery, it's no surprise we've set our sights on Morocco.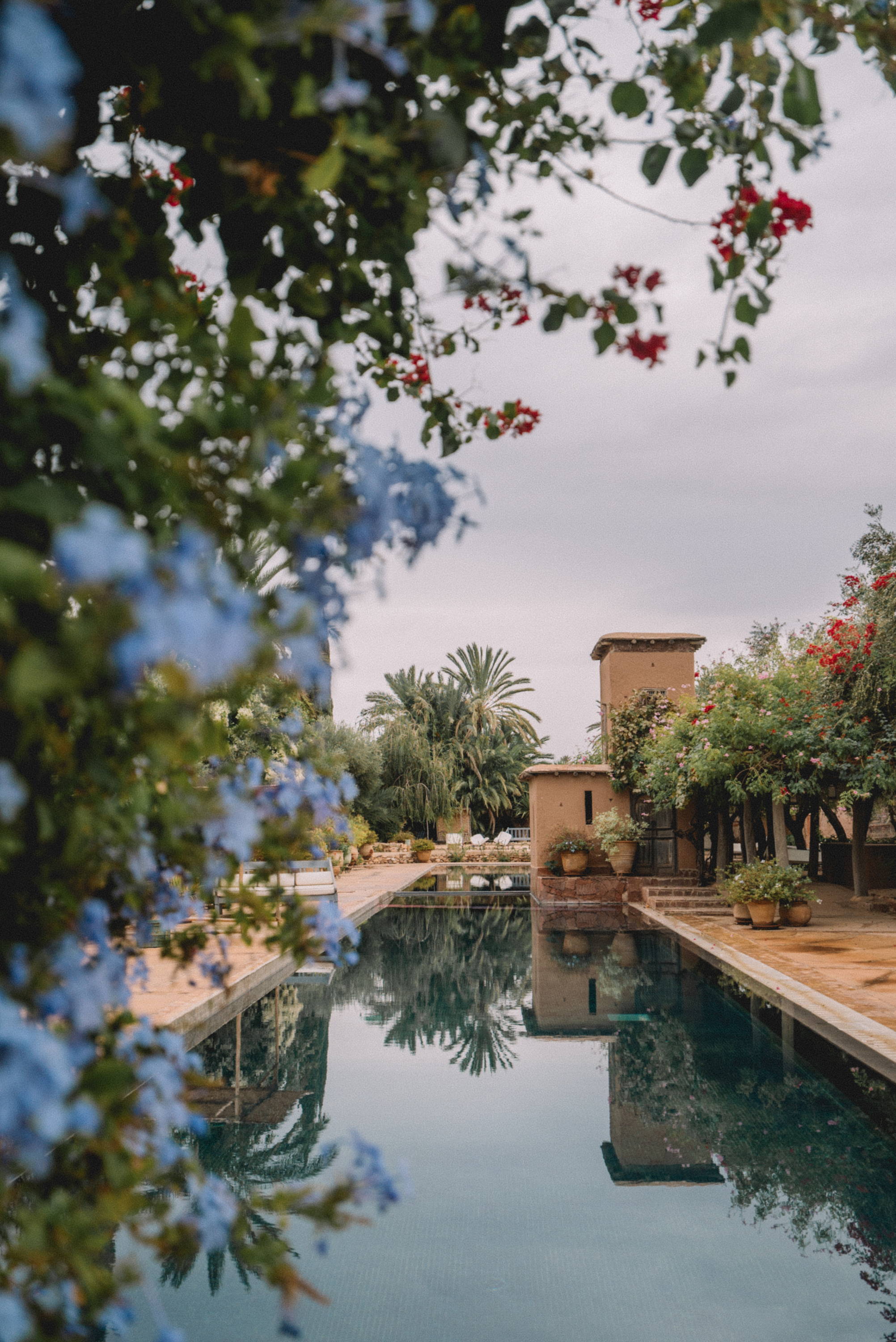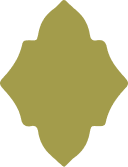 BELDI COUNTRY CLUB, WHIND ARCHIVES
Seasoned travelers know the secret to a successful, well-rested trip is finding one's own private oasis to return to after a day of touring the sites, shopping the markets and indulging in local delicacies. Morocco has no shortage of opulent accommodation options. From palatial hotels to private riads, there is an abundance of places to let you rest your head in serene style.
Carefully restored by Jacques Garcia, of Paris's Hôtel Costes, La Mamounia has been completely reimagined for the 21st century, with brand new furniture and fabric made by local artisans, as well as its original mosaics (all meticulously restored). The 1923 property features opulent indoor and outdoor pools, four decadent restaurants serving everything from European fare to local Morrocan favorites, and plenty of space for entertaining on the exquisite patios -- all beneath a palm-laced sky.
An architectural gem in the heart of the medina, this riad was built in the early 1900s. Curved stucco and zellige tiles illuminate the artistry of Moroccan craftsmen. Inhale the sweet scent of orange blossom and cedarwood in the evening, as the lights of the medina dazzle overhead -- the perfect Arabian night.
Dotted with French accent pieces from the owner's family home, the riad is a peaceful jewel, filled with candle-lit terraces. Cozy corners are piled high with pillows, while a long, luxurious pool is ideal for an early morning swim, or cooling down after a day in the medina. Sit out on one of the man patios with a mug of soothing mint tea, or catch the sun setting over Marrakech from the sleek rooftop before heading off to bed.
This picturesque, 27-room gem in Marrakech is home to a stunning six-hectares garden set against the Atlas Mountains. Using roses grown on-site, the charming spa is a refreshing retreat from the city's buzzing center. Its lush gardens, tranquil pool and interior artistry are so impressive and inspiring, we holed up here to shoot our first ever skin care collection...
Located on a hill above the city of Tangiers, the villa offers breathtaking views of the Strait of Gibraltar. Built in the 1900s, the hotel is one of the most spectacular in the city thanks to its mix of French colonial architecture with a Moroccan twist. Get lost in its tropical gardens, and take in the stunning pool-side view.
---
When I return to Morocco, I cannot wait to spend days on end enjoying the welcoming and oh-so familiar warmth of my family home. Sitting in my usual spot, half in the shade / half caressed by the mid-afternoon sun, sipping sweet mint tea, laughing with my sister and just being. But there are plenty of magical Moroccan establishments offering next-level experiences for when you want to relax in style.
- Hind
Spread across a hilltop high in the Atlas Mountains, Kasbah du Toubkal is a tribute to Berber culture and hospitality built upon the ruins of an ancient Kasbah. Gazing out over the Imlil Valley, the eco-friendly guest house is equipped with modern comforts amidst an ancient mountain range. Get trekking with one-day camel excursions, or overnight hikes.
Overflowing with North African vibrance and French flair, this sensuous boutique hotel is tucked away in the charming village Essaouira, and features two stunning pools. Airy, extravagant interiors, decorated with the wares of local artisans, have a surprisingly calming vibe. Family friendly, the property also has a romantic dome room perfect for couples.
Housed in a 19th century church built by Spaniards, L'Iglesia has been converted into a charming 14-room boutique hotel. Located in the port city of El Jadida, between Marrakech and Casablanca, the hotel blends Portuguese and Moroccan influences into a peaceful, atmospheric setting with gorgeous sea views.
"The hotel blends Portuguese and Moroccan influences into a peaceful, atmospheric setting with gorgeous sea views..."
28 extravagant rooms recently restored by Vanessa Branson, El Fenn is a paradise defined, located steps from the souk. Sumptuous rooms, soaring ceilings and a pitch perfect decor, El Fenn is shaded by orange trees and has three pools (one of which is on the roof with a pristine view of Koutoubia Mosque). Try your hand cooking local dishes in the hotel's own kitchen, join a writer's retreat or splurge on photography lessons (that will serve you well in the Red City).
Picture the terracotta kasbah sitting against a bright blue sky. Dar Ahlam lies on the edge of the desert, and is a true oasis amidst the dunes. Hours away from the hustle and bustle of city life, Dar Ahlam beckons the outdoor adventurers, looking to end their day in a soothing, tranquil surrounding. There is no set dining area: you arrive in the lobby and are escorted to a private, starlit dining area. The decor inside the traditional kasbah is subtle and tasteful, and changes seasonally. Fun fact: Dar ahlam means "house of dreams" - fitting.
Stunning tile-lined pools dotted with lanterns, a bright red and blue restaurant, and gorgeous gardens filled with jasmine, roses, citrus and olive trees: welcome to Le Jardin des Biehn. The colorful rooms feature a combination of local antiques and textiles, and are a supreme celebration of Moroccan culture.
Inspired by traditional Berber architecture, the rustic guest lodge was constructed in the idyllic village of Oumnass. Set amongst acres of olive trees, the lodge resides in the foothills of the Atlas Mountains, about 12 miles from Marrakech. Featuring a mix of traditional fabrics and raffia accents, the hotel is a study in laid-back luxe. Savor a meal made from vegetables grown on its grounds, or stretch out by the serene pool.
Yoga, surfing, reclining with views of sea, Amouage is an off-the-beaten-path gem you won't want to miss. Rooms look out onto a gleaming infinity pool that seems to spill over into the ocean. Decorated with enough boho trappings -- layered Berber rugs, tiled floors, woven poufs, cacti, and a wall of plants-- Amouage's wanderlust aesthetic has the laid-back appeal of a pensione. Kick off your sandals and enjoy a communal meal on the verandah with other guests.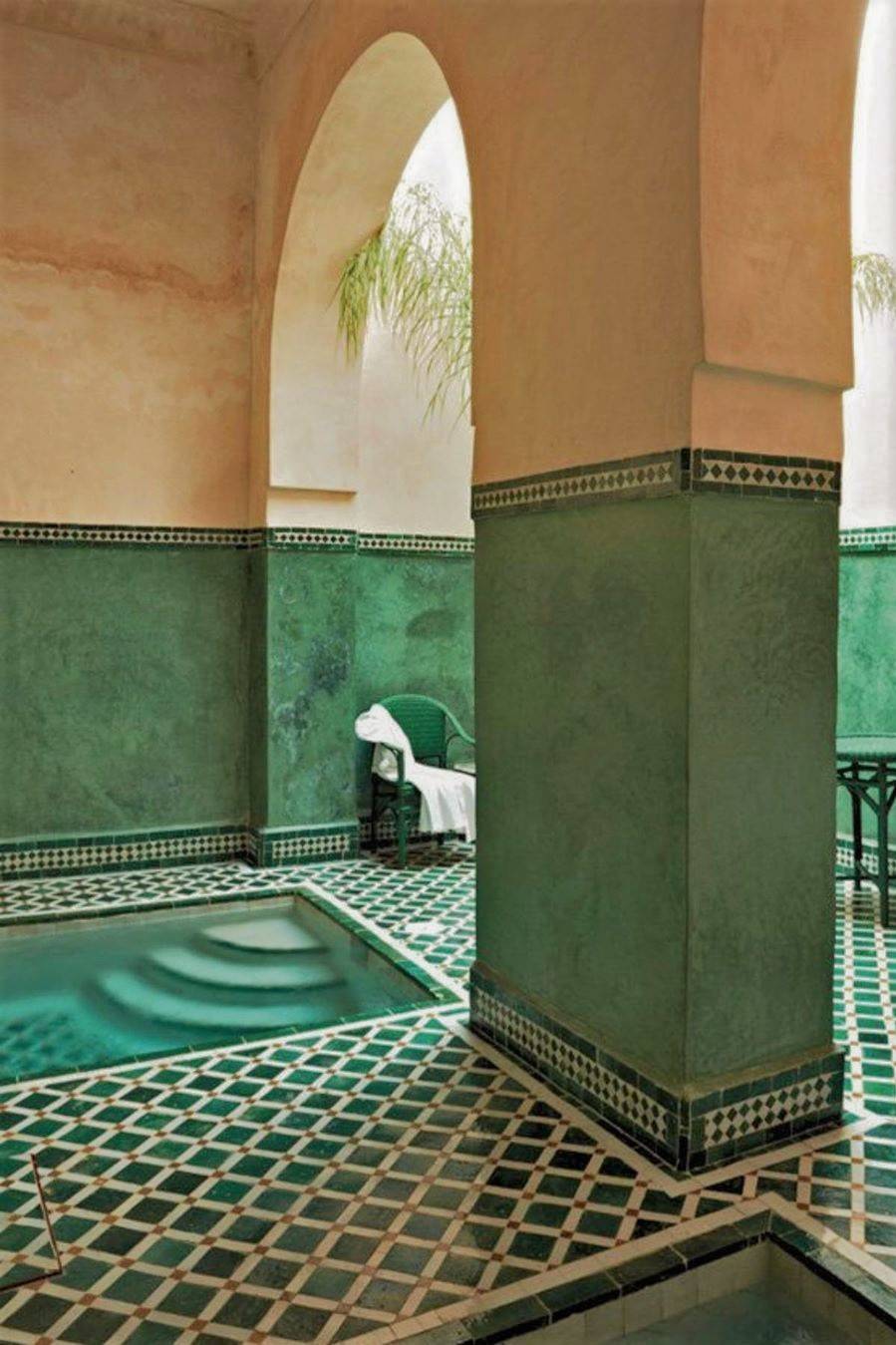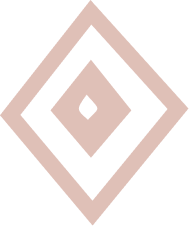 LE JARDIN DES BIEHN, PHOTO PINTEREST
Whether you're looking to step off the beaten path, or sprawl out in luxury - walking distance to a medina - Morocco has something for every traveler. Connect with us on Instagram @whind for more travel inspo, and tag us in hotels that are on your wishlist...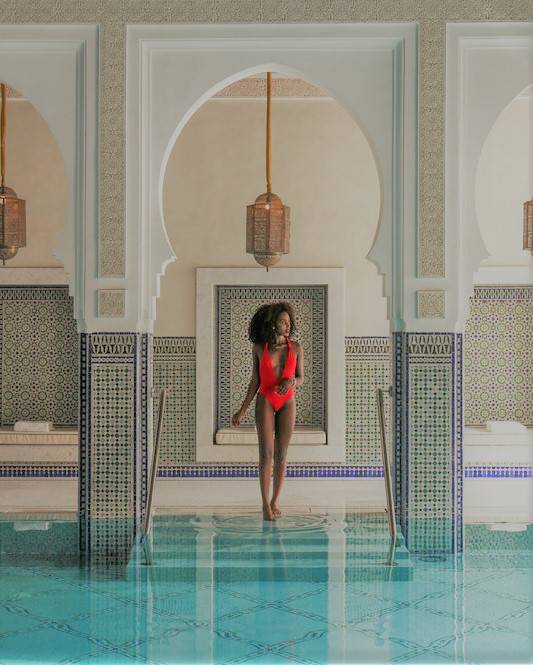 LA MAMOUNIA, @SPIRITEDPURSUIT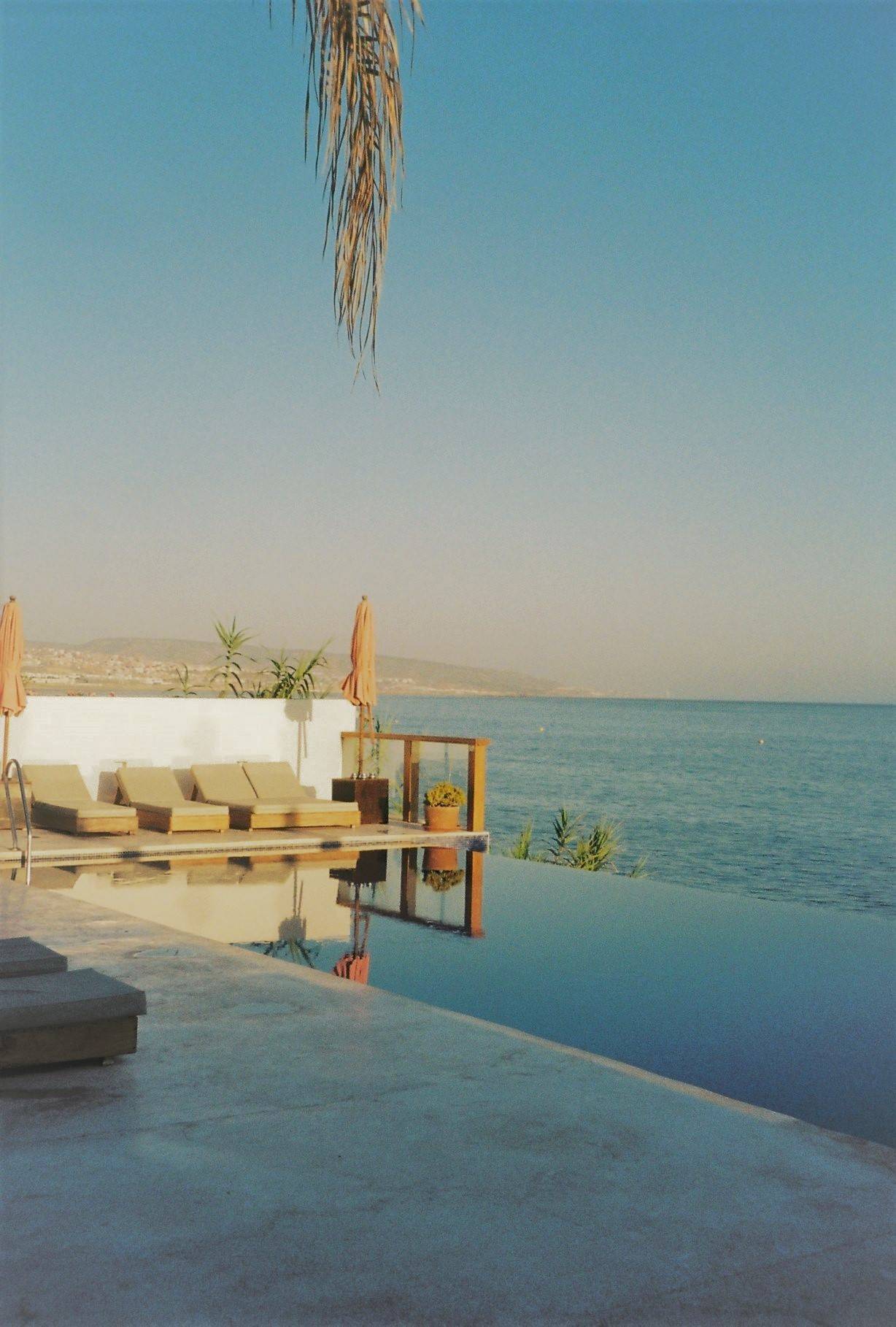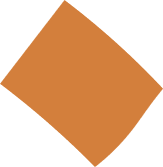 SURF MAROC AMOUAGE, PHOTO PINTEREST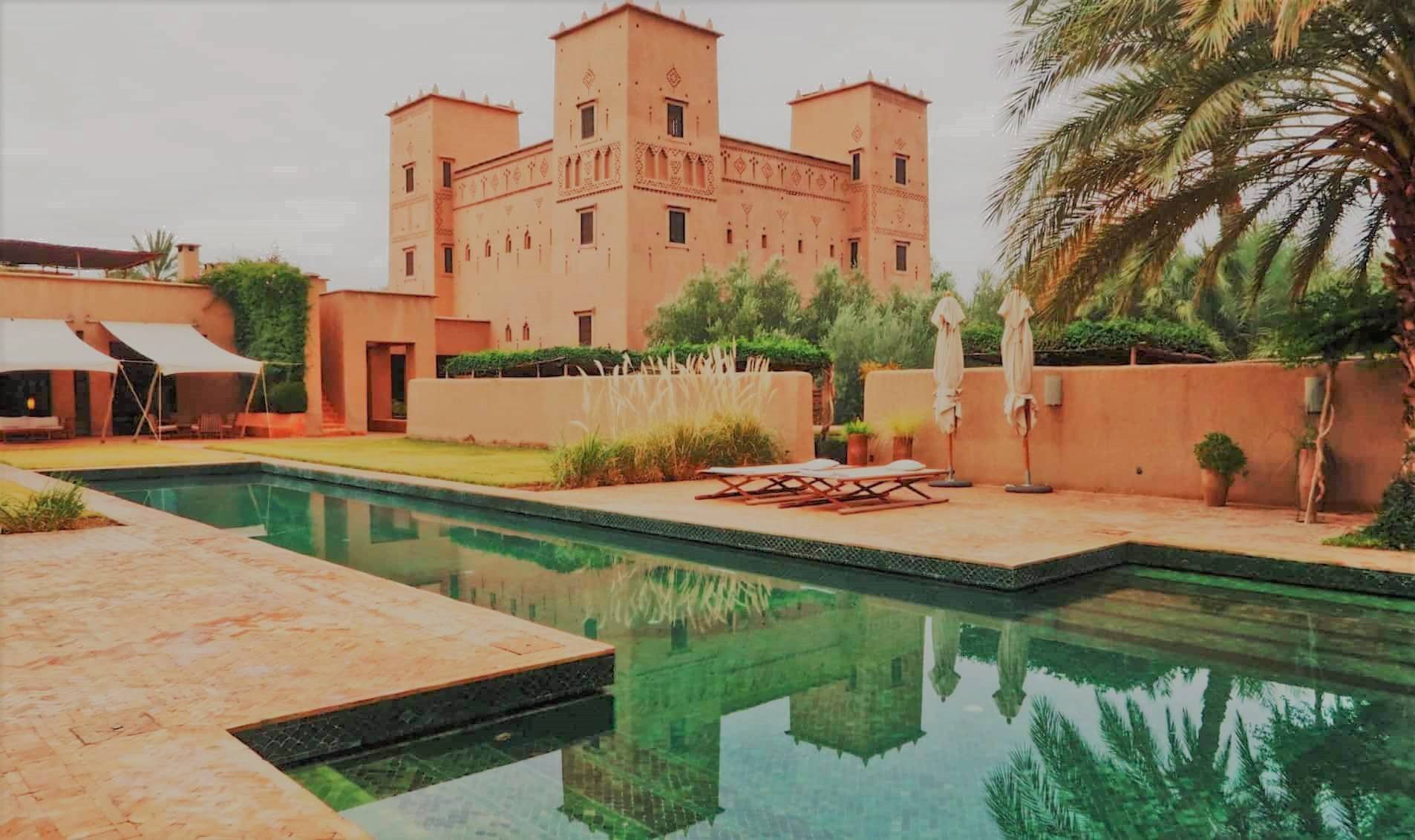 DAR AHLAM - THE LUXE VOYAGER