The NEW Brightening Serum Everyone is Raving About
Say Goodbye To Dark Spots
Discover The Top 3 Ingredients
For Fighting Pigmentation
Get brighter skin in just one week
Are you tired of dealing with dull skin and want to see results fast?
We have crafted a recipe for visually brighter skin in just one week. Our 3 clinically proven ingredients act quickly against pigmentation, dark spots, wrinkles, dry skin and other unwanted skin conditions.
The best part is that it's easy to use and works on all skin types.
Can Vitamin C really brighten your skin?
Vitamin C is not called "magic" for no reason. It's one of the most clinically-proven skincare ingredients to effectively brighten the skin and tackle signs of aging.
To demonstrate the brightening power of Vitamin C, we exposed an apple to environmental stress, and coated one with a serum containing a pure form of Vitamin
C, Ethyl Ascorbic Acid.
As you can see, the side of the apple that was coated with the Vitamin C serum stayed bright and fresh, while the side without quickly becomes dull and dry,
demonstrating its ability to help brighten and boost radiance on your skin.
"In short this serum really works, in one week my skin was visibly brighter. This product really boosted my confidence and made me feel healthier, glowier, and fresher."
Arbutin - Our Magic Dark Spot Eraser
We get it — dark spots are frustrating and it happens to everyone.
In your quest to brighten skin, lighten dark spots, or reduce the appearance of hyperpigmentation, you're likely curious about your options.
One rockstar ingredient that should be on your radar? Arbutin, a topical ingredient famed for its ability to leave your skin glowing.
This potent brightening active blocks and targets dark spots and pigmentation on the skin, effectively fading them while preventing them from forming.
The Marvelous Prickly Pear
There's nothing we love more than a good, do-it-all oil—which is why we included prickly pear oil in this game-changing serum.
Prickly pear is packed with essential fatty acids, omega-6 and -9, and the natural antioxidant vitamin E. It's also rich in amino acids and vitamin K, which brightens dark spots and also promotes your skin's elasticity.
Prickly pear extract gently exfoliates and smooths the skin's texture, for skin that beams with light. What's not to love about this wonderful plant?
"whind also then stables my trust issues, by the fact that the brand is founded by ex-P&G and L'Oreal player Hind Sebti who knows a thing or two about formulation."

If you really want to fight back against dark spots and pigmentation, you need the best ingredients.
That is why we've put the 3 most powerful ingredients into 1 serum.
A triple-active, brightening & pigmentation correcting Vitamin C Serum that targets the most visible signs of dullness for visibly brighter skin in just one week, on all skin types and tones.
Get visibily brighter skin in just 1 week.
---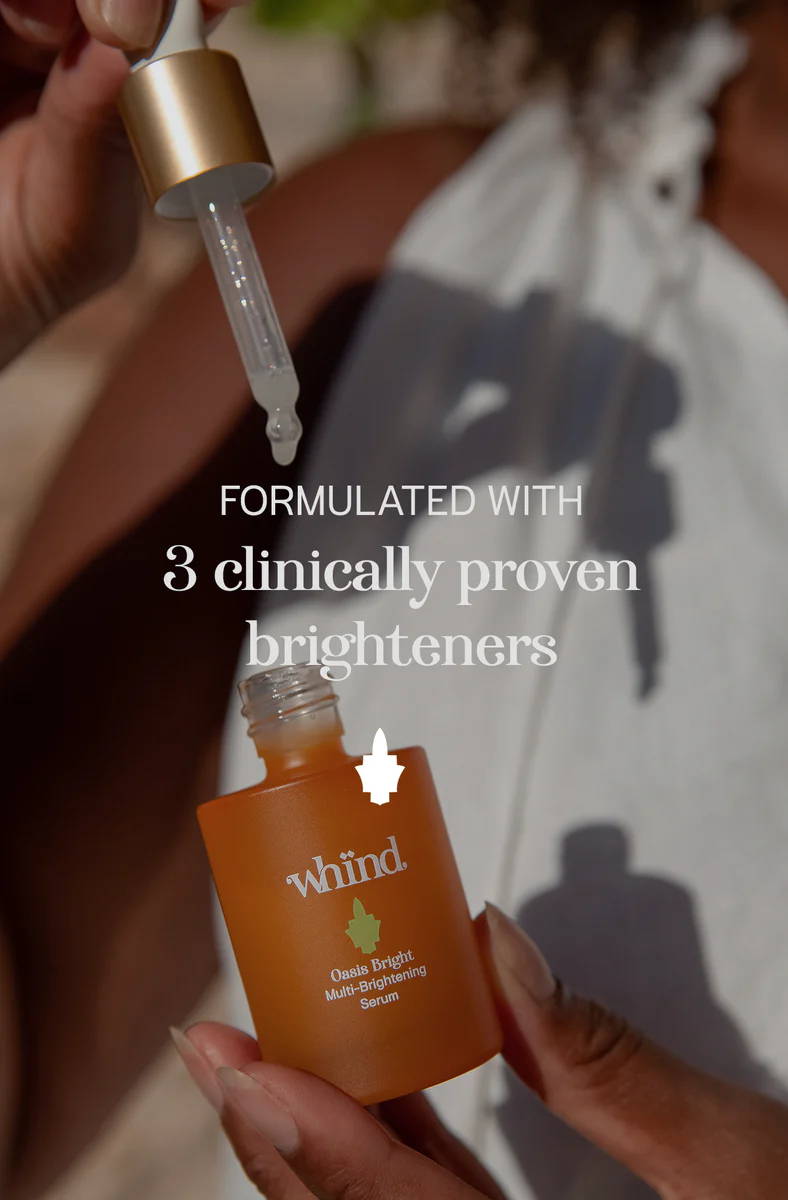 Written by
an anonymous user
on
Customer Reviews
based on reviews
There are no customer reviews yet.
Thank you for submitting your review. Once it is approved, your review will show up in the list of reviews.
Submitting your review failed. Please try again.