Ourika Sun
Instant Glow Tinting Water
size: 30ml
Natural sunkissed tan, never overdone
Lightweight, effortless gradual tanning for a healthy, bronzed complexion. No sun required.

Unique sunless tanning ingredients
Powered by plant-based Erythulose, a natural botanical alternative to DHA, Ourika Sun builds up a natural looking tan gradually with just a subtle scent and without stickiness. The lightweight formula is infused with Hyaluronic Acid and Glycerin to lock in moisture, for a longer-lasting bronze complexion.

Dermatologically tested. In our user trial...
- 92% agree, it is lightweight and fast absorbing
- 91% agree, skin looks naturally tanned
- 85% agree, effortless and enjoyable tanning experience

Methodology: unbranded test conducted on 88 users of all skin tones. 

For all skin types and tones.  Non-comedogenic.
Cruelty Free
Vegan
Carbon Neutral
What is it?
Ourika Sun is a summer bronze in a bottle: our hydrating tinting water, gives a healthy and radiant tan, without the risk of sun damage.
A buildable, gradual, natural tint: our innovative formula is powered by Erythrulose, a natural botanical tanning active that builds colour gradually mimicking the natural bronzing effect of basking in the sun, without the risks of sun damage. By working deep within the skin's surface, Erythrulose can help achieve a natural bronze shade that is slow to fade.
Hydrating, for a longer lasting tan: thanks to the addition of two super hydrators: Hyaluronic Acid, which binds moisture to skin, and Glycerin, which draws moisture from the air and helps lock hydration in. These help the formula slip across the skin to be quickly absorbed, leaving hydrated, glowing skin.
How to use
Massage 2-3 drops directly onto skin, or mix with serum, oil or moisturizer. Additional drops will increase depth of color. Rinse hands after application.
Tip: Mix in with Marrakech Light Illuminating Magic Oil for an extra-glowy, natural bronze finish.
External use only, avoid contact with eyes.
Ingredients
• Erythrulose: a botanical alternative to DHA that reacts with proteins in the skin's surface to gradually build colour on the skin, leaving a natural looking, bronze tint on the skin.
• Hyaluronic Acid: loved as a super hydrator, this molecule can hold up to 1000 times its own weight in water, known to replenish moisture levels and bind moisture to the skin.
• Glycerin: known for its moisture protecting properties, Glycerin forms a protective layer, focusing hydration on the upper layers of the skin and preventing moisture loss
Formulated Without: Mineral Oil, Sulfate Detergent, Parabens, Phthalates, Diethanolamine.
INGREDIENTS: Aqua (Water), Alcohol Denat, Glycerin, Erythrulose, PEG-7 Glyceryl Cocoate, Ammonium Acryloyldimethyltaurate/VP Copolymer, Phenoxyethanol, CI 19140 (Yellow 5), CI 17200 (Red 33), CI 42090 (Blue 1), Sodium Hyaluronate, CI 15510 (Orange 4).
Sustainability
Carbon Neutral Certified ✔ 90%+ recyclable ✔ Formulated following EU regulation ✔
Discover more about our Lighter Footprint Commitment here.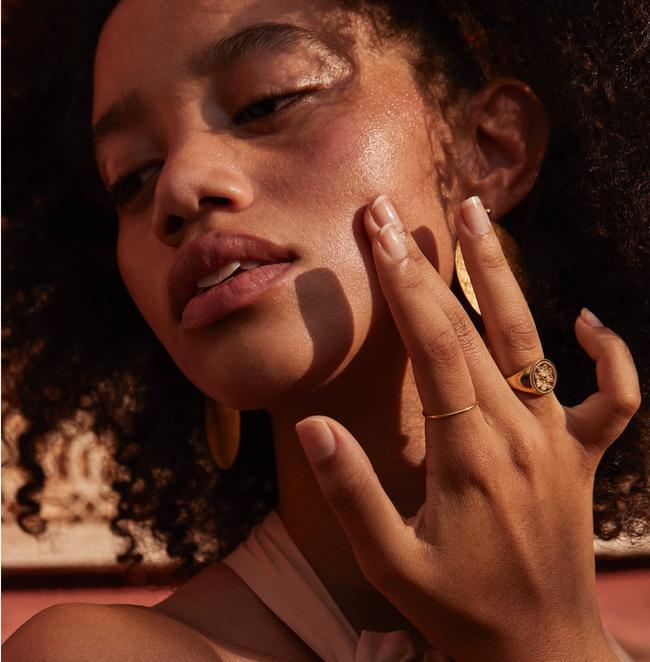 Why it works
"With Ourika Sun, we set out to create a product that would deliver a natural looking, even and long- lasting tan, mimicking the way our natural melanin builds without the damaging and ageing effects of UV exposure. Powered by Erythrulose, a natural Keto-sugar, the formula is perfect for combining with your daily moisturiser to build and keep your holiday glow"
Kathy, Scientific Director
Our Inspiration
"I miss the look of a natural tan, the one you get growing up under the Moroccan sun BUT I also of course know better than to sunbathe and expose my skin to sun damage. The alternative of using sunless tanners never worked for me because I could never get that natural tan I was dreaming of and the experience (stickiness and scent) always got in the way in me trying harder. So my dream for that sunkissed glow, that is both natural and easy to obtain – temporarily quenched thanks to bronzers - was very much on my mind as we were building the whind products. Could we bottle up the natural, progressive tan you get from sunbathing in a texture that is easy to apply, fool proof and nice to use? And the answer was yes. Enter Erythrulose, a botanical alternative to DHA that mimics the sun natural tanning powers, that could be built up to taste and works on all skin tones. All in a water texture that is easy to apply with a discreet warming scent. And just like that I became a sunless tan convert, proudly wearing my natural Moroccan tan, no Moroccan Sun needed."
Hind, Founder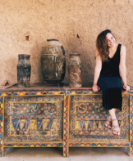 Ourika Sun
Instant Glow Tinting Water
30ml